WE WILL TAKE YOU ON AN ADVENTURE YOU'LL NEVER FORGET!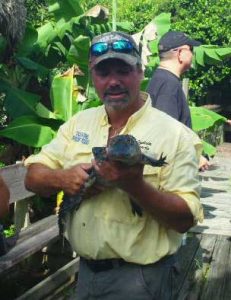 If you like thrill and adventure, then you've come to the right place! Ride the Wind offers private airboat tours in the Everglades for thrill-seekers of all ages.
WHAT WE DO
Ride the Wind is an Everglades private airboat charter that takes off out of Fort Lauderdale. While enjoying an airboat ride in South Florida with Ride the Wind, we'll be taking you to explore all that the wilderness has to offer covering Florida's famous Everglades.
If you're wondering what to do in the Everglades – look no further. You will be mesmerized by the beauty of the lush and stunning botanical experience offered in this marshland, not to mention being able to get up close and personal with the vast Everglades wildlife on each private airboat tour. YES! This means Florida's famous alligators!
One of the best parts about Ride the Wind tours is that YOU get to drive the airboat! While our captains play co-pilot, you have the opportunity to soar through the land with the boat under your control.
Your safety is ensured with Ride the Wind, as one of our certified and trained boat captains guide you through the Everglades on one of our state-of-the-art vessels that are as safe as they are sleek.
WHAT YOU'LL SEE ON AN EVERGLADES PRIVATE AIRBOAT TOUR
Because the Everglades is home to so many different types of animals, there's plenty to see on both our Fort Lauderdale airboat rides. Unlike other airboat excursions, we can guarantee you will spot some of Florida's well-known alligators. There are big gators and baby gators – but all gators have teeth! So, our captains only encourage you to smile right back at them! On any of our Everglades airboat tours, you can keep your eyes peeled for alligators, as well as some of the following animals:
Different types of birds
Deer
Panthers
Turtles
Fish
Snakes
Rabbits
Deer
Pigs
The Everglades is also home to hundreds of different plants, many of which you'll be able to see during your airboat ride. Some plants found in the Everglades include:
Butterfly Pea
White Fragrant Water Lily
Cattail
Sawgrass
Black Mangrove
White Mangrove
BOOK AN EVERGLADES AIRBOAT TOUR IN FORT LAUDERDALE TODAY!
Don't leave South Florida without seeing and enjoying the natural beauty of the marshlands. Ride the Wind tours are more than just an airboat ride in the Everglades. There is no better way to get up close and personal with all the plants and animals that call the Florida Everglades their home than to take an Everglades tour on one of our state-of-the-art airboats. If you're looking for the perfect rush of adrenaline where you can enjoy the wind in your hair and even drive an airboat, it's time to book your tour! Contact Ride the Wind or click the Book Now button to schedule your private tour today!